January/31/2006 02:50 PM
I hope everyone was able to enjoy yesterday's nice weather. I took advantage & headed out to Great Bay Blvd... I would have liked to have gone to Barnegat Light but didn't have that kind of time. I was out at GBB from 12:30 til 2:30pm or so. The marshes were with high waters but by the time I got to the bay beach (around 2pm the mudflats were totally accessible. As much as it was a beautiful day out there & the bay had some cool fog rolling across it & mist rising up ... there just wasn't much to see out there wildlife wise. I
didn't see 1 shorebird of any kind. Pretty much just Brants & CAN's. I did see one Common Loon & one female Hooded Merganser. But no complaints as I was fortunate enough to be outside & enjoyed the scenery & the nice day!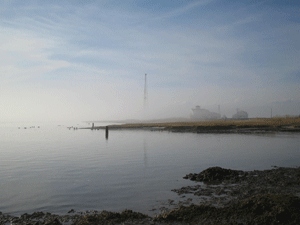 January/23/2006 04:09 PM
Today I made the Movies page links active. Sorry they are the same movies as before but hopefully soon I will edit more tape and put up some new movies. I hope to put up new movies that will be different species from the present movie collection.
January/22/2006 06:22 PM
In the fall I kind of got behind on up keeping a website for the surveys I was doing for the NJAS Shorebird Survey Project. So here it is January 2006 and I figured I'd try to put up some of the spring 2005 and fall 2005 media that I never got to. Hopefully in the next few weeks I will have sorted through the old (2004) survey photo albums narrowed them down to just the better shots and placed them in this new website. Aside from trying to get a head start I thought I would give the site a fresh new look for 2006. Now the task will be keeping the site current with new surveys and media.