June/13/2006 08:31 PM
This afternoon I headed up to LBI & went with my sister and nephew to check on 1 of the beach areas they helped to fence in back in April. We were at 16th & 15th streets in Barnegat Light. We saw 1 pair of Piping Plover on the 15th street beach, in the predator cage as well as out & about running around. We saw another pair of Piping Plover on the 16th street beach as well as a Least Tern pair. The Least Tern pair had to swoop & fend off 2 AO's that entered the fenced in area. The AO's didn't give up easily & the battle went on for a few minutes. Once the AO's left the 1 Least Tern returned to the spot it had been nestled into. The Piping Plover pair was unaffected by the AO's. We also saw the Least Terns swoop at a few people who were coming up the beach paths & along the beach near the fenced in area.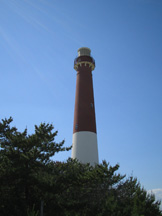 Photo Album

Other related links for nesting shorebirds:

http://www.state.nj.us/dep/fgw/ensp/pdf/bnb_brochure.pdf

http://www.fws.gov/northeast/pipingplover/pdf/catseat.pdf

http://www.njfishandwildlife.com/ensp/pdf/delbayshrbirds.pdf

http://www.state.nj.us/dep/fgw/ensp/somjuly.htm

http://www.state.nj.us/dep/fgw/ensp/pdf/end-thrtened/plover.pdf

http://www.state.nj.us/dep/fgw/ensp/pdf/end-thrtened/leasttern.pdf

http://www.state.nj.us/dep/fgw/ensp/pdf/end-thrtened/blkskimmer.pdf

* Be sure and refresh your browser cache to ensure that you are viewing the latest update(s). This site is best viewed on Macs with Safari or Firefox and best viewed on PC's with Firefox.
June/06/2006 05:20 PM
Today I was @ GBB WMA from 11:45am until about 3:00pm. Late this morning and into this afternoon it was cloudy, overcast and had periods of light rain early on. It was fairly windy with Winds E-NE. The winds stayed steady with occasional stronger gusts. Little Sheepshead Creek HT 4:32am & 5:18pm, LT 11:15am. Shooting Thorofare HT 4:18am & 5:04pm, LT 10:53pm.

Today being the last (?) week of spring shorebird surveys and knowing the few shorebirds I did see today, I wish I had made last week's survey so I could compare weeks 4, 5 & 6 but so it goes. Today the number of Diamondback Terrapins was close to the number of shorebirds I saw and chances are there were plenty more turtles to see!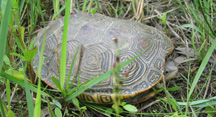 Today's birds consisted of Willets for the most part. I did see a total of 2 SPS, 1 BBP, 1 SPP & 3 AO's. 2 of the AO's were roosting in the marshes by the Rutger's Marine Research Station (near the big tower). I remember seeing them roost there last year around this time. The other AO was out on the SE end of GBB @ water's edge, a common spot as well for AO's @ GBB. Other birds seen were a Green Heron, Savannah Sparrows, Seaside Sparrows, Saltmarsh Sharp-tailed Sparrows, a Least Tern, A Gull-Billed Tern & a Forster's Tern.

June 6th Photo Album
June/04/2006 09:25 PM
Unfortunately with too many activities on last week's calendar I was unable to survey GBB WMA for week 5. I would have been curious to see what kind of numbers GBB had in comparison to week 4 & this last week of surveying, week 6.