February/10/2009 02:48 PM
Since I had an appointment in Manahawkin I decided to cruise over to LBI
when I was done & enjoy the sunny day. So I headed to Barnegat Inlet. It was
actually a quiet afternoon over there. From ~ 1:30pm til 3:30pm I hung out
on the jetty (railed section only... normally I venture all the way to the
end & ocean beach), sunny, 50's, windy, from the south if I remember
correctly & low tide (BI low tide: 1:47pm). Since I didn't go out to the end
of the jetty I was told the Harlequins were all the way AT the end & I was
told there wasn't any shorebirds around.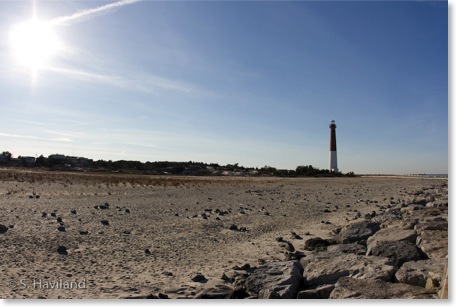 From the railed in jetty area it was quiet but good & long looks AT the
Red-necked Grebe, handful of Red-breasted Mergansers, a Common Loon, Brant &
gulls. Long-tailed ducks were further out in the inlet/ocean but could be
seen flying by. I'm sure more could be seen but I did not have the scope out
with me, just old binoc's.
Also seen were a group of 6 Horned Larks. These could be easily missed with
the sun glaring in your eyes AT that time of day & quite a few people walking
through the sandy rock strewn area. I spotted them only by scanning the area
& noticing a very still bird shape on top of a small rock, wasn't even sure
it was a bird AT first as it was at quite a distance & I was fighting the
sun. I watched it for a few minutes then it finally took flight & joined 5
others already in flight, they circled the sandy area a few times then
landed in the rock field. There some of the group hunkered behind rocks to
get out of the wind & others took sand baths & nestled into the sand.
1 other entertaining observation was a female RB Merg catching a crab of
which she got off a leg & then when she went for more a Herring gull swooped
in, took the entire crab, swam back to the jetty & swallowed it down whole
in 2 gulps. The RB Merg wasn't phased by this AT all & continued to fish &
immediately caught a small fish within seconds of being stripped of the crab.