Forsythe Thur., Feb. 14, 2008 & a February Osprey
February/14/2008 10:10 PM
Lots of cars cruising through Forsythe/Brig's today, guess the sunny weather brought people out.
It was sunny, 40's, breezy. I was out @ Forsythe from 1:15pm til 6:15pm.
My 1st bird of the outing was before I even entered Forsythe. I always stop @ the little 'bridge' on Great Creek Rd. right before Forsythe entrance. Perched in a dead tree was this osprey. See the link below for a slideshow of Osprey photos.
I did see a SEO way out in the East Pool, found it while scanning w/ binoc's & this was around 3:30pm. I saw several N. Harriers over the East Pool, NW Pool, NE marshes & the open field across from Jen's Trail. Also saw a group of 8-10 E. Bluebirds along Gull Pond Rd. A list of the species seen is @ the end of this post.
http://susan.thespikeranch.com/page33/page48/page48.html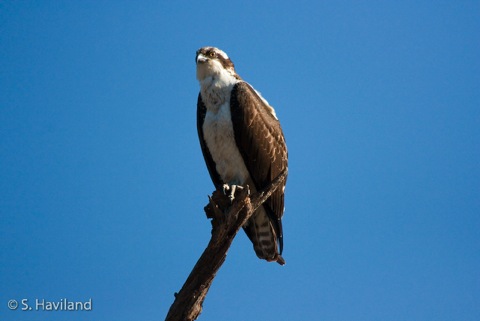 Species seen today:
Osprey (1, maybe 2 or same 1 twice)
YR Warb's
E. Bluebirds (8-10)
Car. Wren (1)
Amr Goldf's
Pintails
Shovelers
Mallards
GBH (8)
Hooded Mergs
Herr. Gulls
GBB Gulls
N. Harriers
Blk Ducks
CAN Geese
Snow Geese
SEO (1, maybe 2)
Buffleheads
Dunlin (group of 5 & 1 solo)
RW Blkbirds
Song Sparr's (3-4 AT Jen's Trail)
N. Card (1 AT Jen's Trail)
A. Woodcock (1 heard on way out, the field past Exp. Pool Overlook rd.)